Inspired by The First Cut Exhibition at Seacity Museum.
Inspired by Su Blackwell, my year 6 class won their 'best in age category' for The First Cut competition at Seacity Museum, Southampton.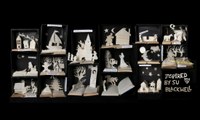 Enthralled by the fantastic paper art on show at Southampton's Seacity Museum at the end of last year, my students and I set to work to create some paper sculptures. 'The First Cut' exhibition showcased the work of contemporary British and International artists who work with paper, including Rob Ryan and Su Blackwell. My pupils each created a book sculpture of a fairy tale.
http://www.salisburyjournal.co.uk/news/10942679.Leehurst_pupils_win_art_prize/